A Celebration of Installation Excellence
Recently our team was invited to a gala event at the CN Tower for the final wrapping competition. The night concluded with a great dinner and celebration.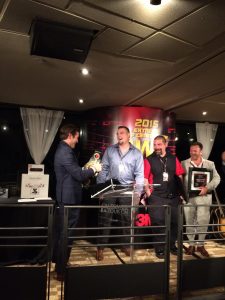 A celebration of our own Cameron Blancher, who won first prize for wrapping excellence.
Cameron Blancher is the brother of Brandon Blancher. The brothers are the most famous and proficient wrappers in Canada.
Last week's competition just emphasized this once again.
The Extreme Wrap Challenge was a one-day wrap-a-thon of three items of varying levels of difficulty–a beer fridge, a goalie mask, and select parts of cars (like a door with difficult moulding).
The three finalists were judged by a panel of four expert judges. Cameron Blancher was declared the overall winner among three of the top wrappers in the country.
Cameron won a trip to Costa Rica and a $500 VISA gift card.
And UMS added another award to our already packed trophy case.
Installation Matters
If you think that anybody can wrap your car–or even beer fridge–then you should reconsider. Bad wraps happen all the time, costing people and businesses thousands of dollars in rewrapping costs.
Don't have your wrap fray, bubble, or come off while driving on the highway. Get it done right. Our wraps have the industry's best five-year, no-questions-asked warranty.
>> If you're thinking of promoting your business for increased sales, then call us or fill out the form below to discover true value and expert installation.
What will your unique media solution look like?